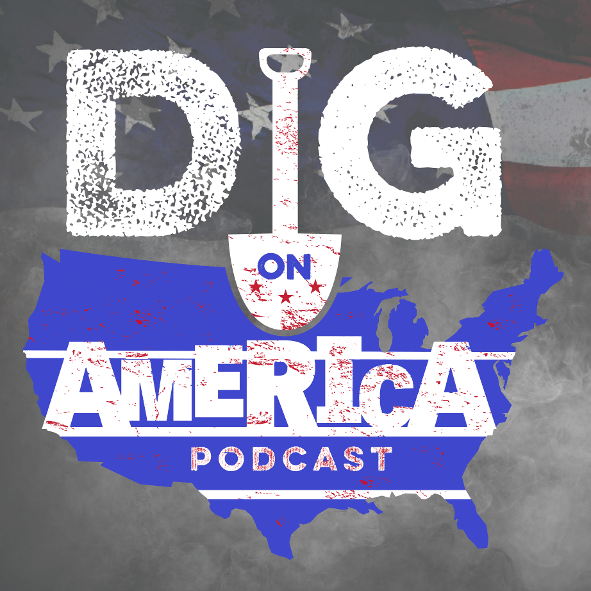 Welcome to Dig on America
we are An independent media LLC that unites voices to promote progressive values, progressive policy agendas, candidates, and community engagement.
if we do not know history, we're doomed to repeat it.
Dig on America was formed from by two of the three original hosts of Voice from the Underground: The Podcast, which ran from 2017-2021. The original host of VFU, T.J. Johnson, left the show to pursue family objectives in mid-2020 and Mikey Famine, from The Bin Podcast, stepped in to produce the show. Jasen Dutch moved from producer to co-host, along with Big Hass. In January of 2021, on the same day, coincidentally, that Joe Biden was sworn in, Dig on America, or DoA for short, was born, removing the bulk of the pop-culture talk that it's predecessor had engaged in and focusing primarily on politics and social issues with a focus on examining our socio-political landscape thru the lens of American History. At around the same time, the direction moved from audio only to to streaming on Periscope, until Periscope's demise in mid-2021, when the focus on You Tube and Twitch began.
In April of 2022, Attorney Anna joined the show, and in June, former candidate Lourin Hubbard announced his new show on the network starting in July, "Last Call with Lourin Hubbard" Shortly after, three other shows were added to launch in the next 90 days and DoA transitioned officially from a weekly live stream to a channel, with plans to add more content in 2023.
Mid-July features the release of "Breaking Barriers" with Dino and Kimberly Kay, which began as a successful Twitter Space and will focus on exactly what the title indicates, and the launch of "Left Angle" with activist Marissa Ramirez and Jasen Dutch streaming weekly. Ex Parte Time with Attorney Anna rounds out the 2022 new show launch in late summer.
Dig on America's hosts share the vision of "one team, one dream". We commit to defending democracy, advocating progressive values, getting out the vote and promoting humanitarianism.
About Dig on America
Dig on America believes that Black Lives Matter!
We will go out of our way to combat bad ideas, regardless of where they come from. We will admit mistakes.
We will shine light on social injustices. We commit ourselves to being effective and sincere allies to resilient communities, including the LGBTQ community. We will advocate for fair social safety nets, human interests, and climate reform, including green energy. We unapologetically promote a progressive agenda, including a living wage, single payer healthcare, and getting money out of politics! Join the live stream on YouTube or Twitch. Pod-heads, find DoA on any podcast app, i.e. Spotify, iHeart, Stitcher, Apple, Pandora and Amazon Alexa...
According to trolls, DoA is Deep State propaganda, funded by George Soros, The Clinton Foundation, BLM "
Marxists

" and...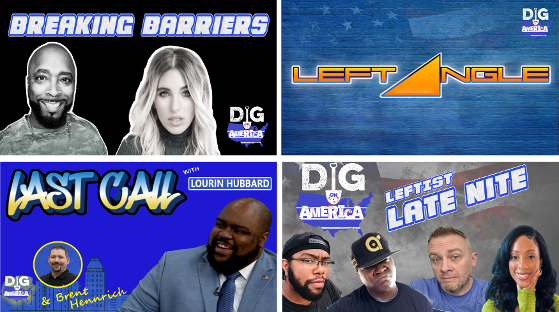 Join the Dig on America Leftist Late Nite LIVE every Wednesday
at 9:30 pm Central with Hass, Anna, Dutch and Mikey... it's the show that started it all.
Join Lourin Hubbard, the Democratic primary winner in CA22 in the 2022 midterms every Sunday at 7:30 pm Central for "Last Call" as Lourin and Brent Hennrich interview progressivecandidates that few others will.
"Breaking Barriers" with social media guru Kimberly Kay and Hollywood insider Dino Moore airs on Twitch every Thursday at 8pm central and hits YouTube the next day!
"The Left Angle" with Dutch and Marisa airs on Twitch every Friday at 3pm central
Last but certainly not least, "ANNA-lysis with Attorney Anna launches in Fall of 2022.
DoA is on Social Media!
You can check out Dig on America on Facebook, Twitter & more all @Dig on America! It's a great way to be notified about new episodes, discover what's coming up on future shows, find bonus content, get to & engage in fun & important conversations with the hosts!
Help Support Dig on America Podcast
Consider joining our Patreon club! Money goes towards equipment, web hosting, & marketing to new listeners! The 1st of every $3 we take in from patron support will be donated to charity. THATS 33%
DIG ON AMERICA Supports #Easterseals, #WoundedWarrior & #DoctorsWithoutBorders
$2/mo gets your name read on-air & allows you to pick a topic!
$5/mo gets you the above + a FREE DOA tumbler or mug!
$10/mo gets you ALL the above + a FREE DOA T-shirt!!
INDEPENDENT MEDIA IS SUPPORTED BY LISTENERS, NOT BY THE DEEP STATE OR BY CORPORATE DOLLARS! WE NEED YOUR SUPPORT!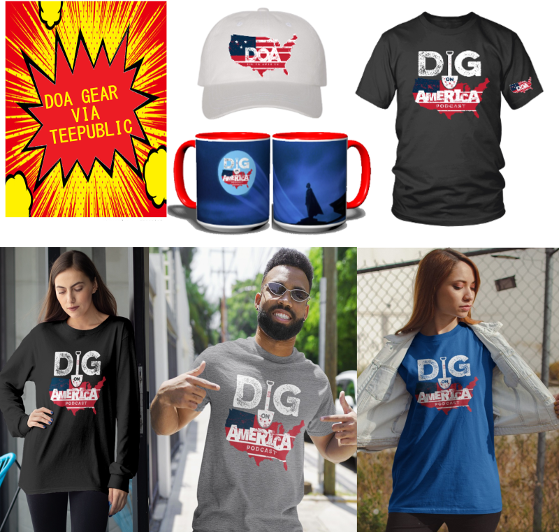 Our Networks
You can find Dig on America's list of episodes (we started in October 2017 as Voice from the Underground Podcast, so there's a TON of episodes in the back catalog) by clicking the "Episode Library" link below to listen on our media host, Transistor. You can also find us wherever podcasts are "sold", including Apple Podcasts, Google Podcasts, Stitcher, Spotify, Pandora, iHeart Radio and many more! Just search the platform of your choice for Dig on America & don't forget to SUBSCRIBE! We would also LOVE YOU if you would please take 2 minutes to leave us a 5-Star iTunes review! It is HUGE for getting us exposure! Proud members of Big Heads Media

© Copyright 2022 - Dig on America Media