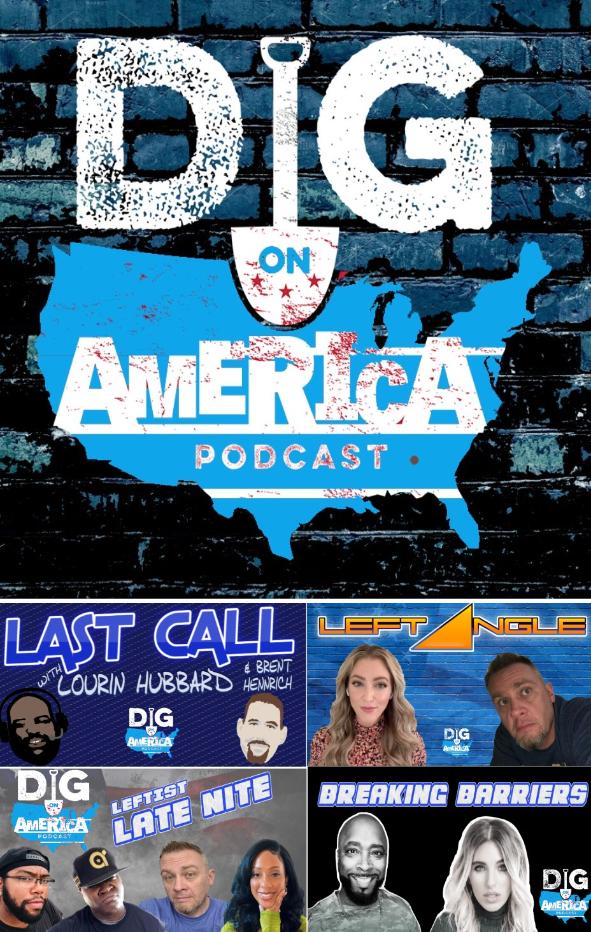 what is dig on america?
We are an Independent Media team up of exceptional individuals. We are an experiment best described as a DAO, with unique shows, but united in promoting humanist values. We offer content that combats right-wing propaganda, offers progressive commentary on the impact of authentic American History and shows promote both community engagement and likeminded candidates running for state and federal office. We also create shows focused on navigating difficult conversations. Our shows are different, but always in support of democratic ideals, inclusion and humanism. Conservatives may define us as "woke" or "radical socialists". We define ourselves differently. We criticize America not because we hate her, but because we love her enough to demand she do better. That's patriotic.
A few statements we align on:
WOMEN HAVE A HUMAN RIGHT TO CHOICE AND PRIVACY.

IF WE DON'T KNOW HISTORY, WE ARE DOOMED TO REPEAT IT.

WE MUST GET MONEY OUT OF POLITICS AND ELECTIONS.

EVERY AMERICAN SHOULD HAVE EASY ACCESS TO VOTING.

BLACK LIVES MATTER. LGBTQ LIVES MATTER, TOO.

THE U.S SHOULD HAVE A SINGLE PAYER HEALTH CARE SYSTEM.

CAPITALISM HAS CREATED THE NEED FOR UNIONS.

PEOPLE ARE FREE TO PRACTICE, BUT NOT IMPOSE, THEIR FAITH.

A RIGHT TO FREE SPEECH, NOT FREEDOM FROM CONSEQUENCE.
DOA IS ON SOCIAL MEDIA!
You can check out Dig on America on Facebook, Twitter & more all @Dig on America! It's a great way to be notified about new episodes, discover what's coming up on future shows, find bonus content, get to & engage in fun & important conversations with the hosts!
Help Support Dig on America Podcast
Consider joining our Patreon club! Money goes towards equipment, web hosting, & marketing to new listeners! The 1st of every $3 we take in from patron support will be donated to charity. THATS 33%
DIG ON AMERICA Supports #Easterseals, #WoundedWarrior & #DoctorsWithoutBorders and more...
$2/mo gets your name read on-air & allows you to pick a topic!
$5/mo gets you the above + a FREE DOA tumbler or mug!
$10/mo gets you ALL the above + a FREE DOA T-shirt!!
INDEPENDENT MEDIA SUPPORTED BY LISTENERS, WE NEED YOUR SUPPORT!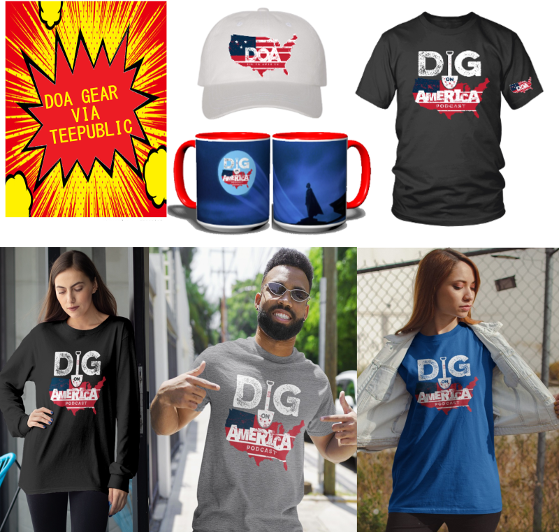 Our Networks
You can find Dig on America's list of episodes (we started in October 2017 as Voice from the Underground Podcast, so there's a TON of episodes in the back catalog) by clicking the "Episode Library" link below to listen on our media host, Transistor. You can also find us wherever podcasts are "sold", including Apple Podcasts, Google Podcasts, Stitcher, Spotify, Pandora, iHeart Radio and many more! Just search the platform of your choice for Dig on America & don't forget to SUBSCRIBE! We would also LOVE YOU if you would please take 2 minutes to leave us a 5-Star iTunes review! It is HUGE for getting us exposure! Proud members of Big Heads Media. You can also find us LIVE on YouTube, Twitch, and Facebook streaming every Tuesday, Wednesday, Friday and Sunday night!

© Copyright 2022 - Dig on America Media